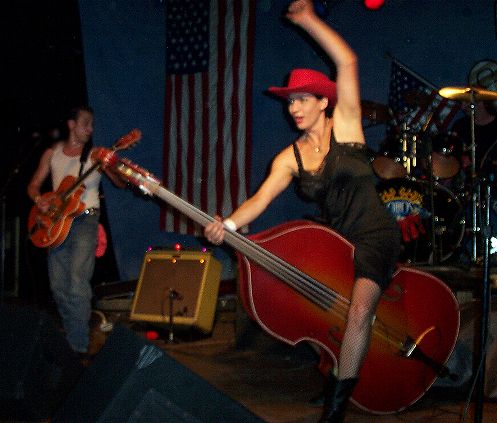 The Lords of the Highway, rockin it hard at the Heavy Rebel Weekender.
---
I was only able to stay at the Heavy Rebel Weekender for a few hours, but I got a few shots.
---
Ook is branching out with his own web space on demonbeachrecords.com. Check it out!
---
Someone once told me that the best definition of a Libertarian was a gun-toting economist on pot. With that definition in mind, I'm including a link to a North Carolina Libertarian who has produced her own calendar of Libertarian babes. Since I've spent a great deal of time writing songs about pot smoking chicks with guns, I think it's only fair to give their political leaders a link. Libertarian Chicks Calendar
---
Since the biggest thing on the Internet is porn, it was just a matter of time before there was a punk porn site. Giving us the righteous gospel on this site and other aspects of the fast life is our latest friend of Demonbeach---director, writer, actress and swampabilly disciple DebraJean Danger.
Go worship her now.
---
| | |
| --- | --- |
| | Daisy decided that she would shoot the range this time from band news of the day to the admiration of a British officer on the wrong end of the American Revolution in God Save The Kings. |
---
| | |
| --- | --- |
| We only ended up with a handful of these, but hey, quality over quantity---right. The Bad Checks and friends at The Sleazefest West. There are some better pix floating around out there, and if they come to me as a jpg, they'll go up too. | |
---
| | |
| --- | --- |
| | We all know the women with guns in the black cat suits were not the Swedish Special Forces, but can you guys figure out who they really were. In a Demonbeach giveaway, the first person who can post on the messageboard who the women were and where the pictures were really taken will win a Demonbeach sampler of CD's and records. God luck. Here's a hint---the guns were real. Study the Swedish Special Forces |
---
---
Voodoobilly, Psychobilly, Lustabilly, Sexabilly, gasoline driven, fuel injected, lust crazed trailer trash chicken chasers and the people who love them. Next on Demonbeach.

Demonbeach
Messageboard.
---
Demonbeach Records
Browse our Catalog!
---
About the Editor
---

The Bad Checks
Big Black Cat
Good to the Last Drop
Suicide Generation
The Ghost of Rock
Rummy
Anchors Away
Butchwax
Bad in Bed
She'll Never Go
Rockabilly Motion
The Clifmen
Writer
Dreams
Something Better to Do
---
Email the webmaster.
---