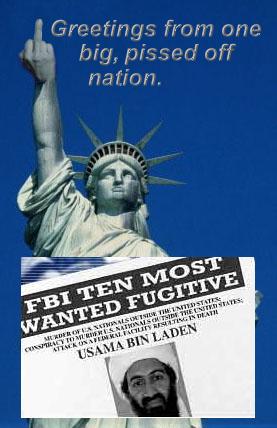 How are you doing today? | Who speaks for Islam? | Our neighbors, our countrymen and ourselves. | War, slaughter and sanctions. | Race, race and race. | The rest.
Alright guys and gals. This issue is going to be short and sweet. It is much more political than usual, but that's the way it is. The next updated issue will be back to normal. If you have suggestions for the next music related issue, leave them on our New Demonbeach Messageboard.

Also, take the new poll. You know you want to.

Important: The new Demonbeach Compilation on 12" vinyl will be out soon. I heard the finished product last night and it is a scorcher. All praise be to Demonbeach Records. I'll put a sample up as an MP3, and maybe the Bad Checks tunes live at Duke University that I promised on the last issue.

Voodoobilly, Psychobilly, Lustabilly, Sexabilly, gasoline driven, fuel injected, lust crazed trailer trash chicken chasers and the people who love them. Next on Demonbeach.

Demonbeach gets political... just this one time.
---
Demonbeach Records
Browse our CD Catalog!
---

The Bad Checks
Big Black Cat
Good to the Last Drop
Suicide Generation
The Ghost of Rock
Rummy
Anchors Away
Butchwax
Bad in Bed
She'll Never Go
Rockabilly Motion
The Clifmen
Writer
Dreams
Something Better to Do
---
Email the webmaster.
---
View final results of
last issue's poll.
---