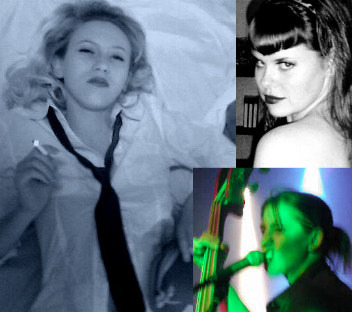 Cover Story---This issue we profile three sleazabilly ass-kickers from north of the Mason Dixon line. They walk the walk, in the clubs and on the net, and nothing beats the real thing. Begin worship!
Joey Ramone saves rock and roll---then dies. We miss him already.
New MP3s If you like the old-school punk (doesn't everyone?) check out the new cuts from The Ghost of Rock.
Demonbeach HQ is moving! The physical digs of Demonbeach, are moving to a roomier locale. We're hoping to have enough room to do some recording in the new location. We will take donations of any leopard skin wall hangings. (For the jungle room, of course).
New Links--- There are lots of great looking girls on the net, but when we profiled our three this issue, we were only interested in the movers and shakers in the scene. That being said, we are adding the links of their sites because we really want you to check out their mags and their music.
Things to be upset about--- The election is over . Now instead of having Democrats stealin your wallets, you'll have Republicans peeking into your bedrooms. We should all have sex. That'll show em who's boss!
Follow this link to download MP3 and RealAudio of The Bad Checks from MP3.com.
Voodoobilly, Psychobilly, Lustabilly, Sexabilly, gasoline driven, fuel injected, lust crazed trailer trash chicken chasers and the people who love them. Next on Demonbeach.