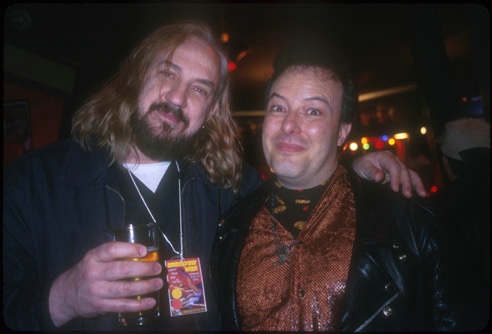 Ever wonder what Jesus and Satan would look like over beers? Clif Mann of the Bad Checks with Jello Biafra at the Sleazefest West. Photograph by Laurie Stalter. I'll be changing this site in about a week, but I'm really gonna miss this pic. And, my apologies to Jello for using the old "room for Jello" cliche---I know he's gotta hate that by now..

---
Important: The new Demonbeach Compilation on 12" vinyl is out today.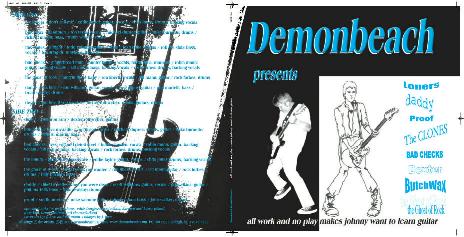 It contains tracks from The Ghost of Rock, Daddy, The Bad Checks, Butchwax, The Clones, Proof, Dexter, The Loners and more. Send $13.50 (includes shipping in the U.S.) to: Demonbeach, P.O. Box 6693 Raleigh, NC 27628-6693. Remember, this is 12" vinyl this comp is not available on CD. This thing will melt the needle off your record player. If you are one of our overseas fans, email Clif and he'll figure out your shipping cost.
---
We would also like to introduce a new band---The Molested. We caught their show at Kings in Raleigh, NC. These guys are gonna make some noise for sure.
---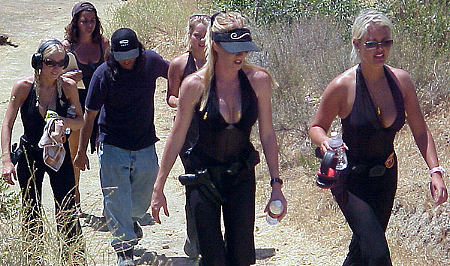 Demonbeach---TORA BORA: The Swedish Special Forces joined the search of caves in Eastern Afghanistan today. A member of this Secret unit known only as "Sarge" stated harshly, "If we find the Bin Laden, we pop a cap in his ass fer suure." More on Swedish Special Forces

---
Voodoobilly, Psychobilly, Lustabilly, Sexabilly, gasoline driven, fuel injected, lust crazed trailer trash chicken chasers and the people who love them. Next on Demonbeach.

Demonbeach
Messageboard.
---
Demonbeach Records
Browse our CD Catalog!
---

The Bad Checks
Big Black Cat
Good to the Last Drop
Suicide Generation
The Ghost of Rock
Rummy
Anchors Away
Butchwax
Bad in Bed
She'll Never Go
Rockabilly Motion
The Clifmen
Writer
Dreams
Something Better to Do
---
Email the webmaster.
---
View final results of
last issue's poll.
---